코너 혼 로드(Corner Horn)스피커시스템의 설계 일인자
Paul Wilbur Klipsch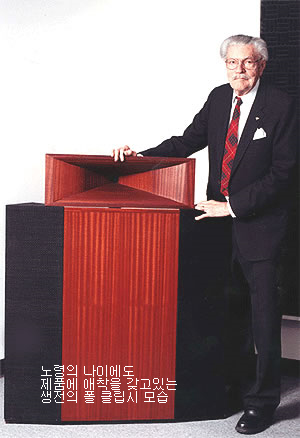 스피커 산업에 선구적인 사운드의 전설(Legend in Sound)의 엔지니어이자 개발자로 알려지고 있는 혼 스피커시스템 설계자로 유명한 Paul Wilbur Klipsch씨는 98세 고령의 나이로 서거했다.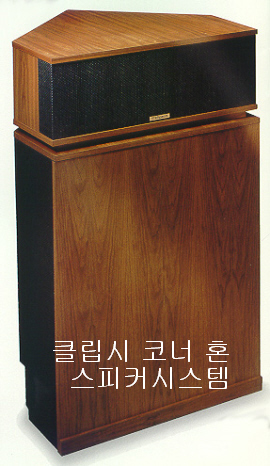 그는 혼 스피커시스템의 대명사로 불리워 졌던 미국 Klipsch사의 설립자이기도 하다. 알칸사스에서 있었던 동사 설립 기념일이자 97세의 그의 마지막 생일 파티에서조차 지나간 날을 회고하면서 회사 임원들과 대화에서 최근의 새로운 오디오 기술 혁신에 대해 관심을 보일 정도였다.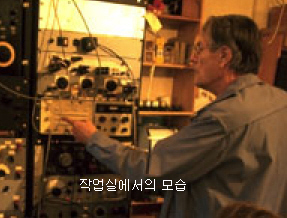 그뿐만 아니라 그의 부인인 Valerie Klipsch에 의하면 93세의 나이 일 때 일주일에 1-2번 정도는 공장을 정기적으로 방문 엔지니어들과의 시스템 설계에 조언을 해줄 정도로 건강을 과시했다고 한다.
특히 그의 화려한 위트와 주변 사람들과의 재치 있는 대화 그리고 뛰어난 지성은 이미 알려진 일이지만 98세 나이란 것을 감안할 때 놀라지 않을 수가 없다. 이처럼 고령의 나이임에도 불구하고 현 시대를 정확하게 바라보는 그의 안목에 감탄을 금할 수가 없다는 것이 그를 알고 있는 주변 사람들의 얘기다.
클립쉬 스피커시스템은 엔지니어 출신이자 창업자인 Paul 이 만들어낸 혼 설계 방식시스템으로 아직 까지도 세계에서 손꼽히는 수작중의 하나로 알려지고 있다. 그는 1940년 최초로 프로토 타입의 Klipschorn 설계에 착수했다.
여기에 사용할 유닛을 우선 개발하기 위해 내놓은 것이 저음용 우퍼인 모델 X-1을 발표했으며 그리고 2년 후에는 X-3을 개발 특허를 얻어내는 등 지속적인 개발에 열중 주변 사람들의 관심을 끌기 시작했다.
그는 혼 설계 방식의 스피커시스템만을 고집스럽게 고수하며 만들어 왔다.사운드의 전설(Legend in Sound)로 대변되는 클립쉬 스피커시스템은 HiFi 오디오파일들로부터 각광을 받아왔다.
라디오 조립에서 시작된 탁월한 엔지니어 기질
Paul Wilbur Klipsch은 1904년 3월9일 인디아나주의 Elkhart에서 메카니컬 엔지니어인 Oscar W.와 Minna (Eddy) Klipsch 사이에서 태어났으며 유년 시절을 거이 이곳에서 보냈다.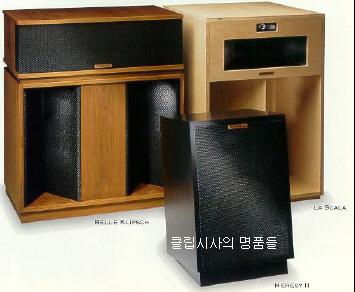 그의 가족은 뒤늣게 Southwest로 이사했으며 La Cruces에 위치해 있는 New
Mexico Alma Mater College(현재는 뉴멕시코 주립대학(New Mexico State
university)에 입학 1926년에 B.S.E.E 학위를 받았다.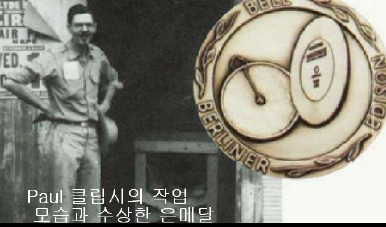 졸업후 1926년부터 3년간 제너럴일렉트릭사의 라디오 분야에서 일하기도 했다. 1928년에서1931까지는 칠레 Tocopilla의 Anglo-Chilean Nitrate사에서는 전문 트레닝을 거치기도 했고 그는 이때 무려 7개 부서를 옮겨 다니면서 기술을 연마하기도 했다고 한다.
1931년 미국으로 돌아 와서는 스텐포드 대학에 입학 일렉트릭컬 엔지니어링 오디오 분야를 이수하면서 1934년 학위를 취득했다. 1934년부터 1936년 텍사스 휴스턴에 있는 Exploration사에 그리고 1937년부터 1941년 휴스턴 Subterrex사에 근무했다.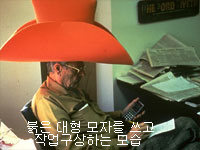 2차 세게 대전이 일어나자 그는 군대에 들어갔으며 ROTC의 챔피언십 멤버로서도 활약했다. 1945년까지 미군에 근무하면서 특히 혼 설계 특허를 받아 낼 수 있게 되었는데 전쟁 중 군대에 근무하면서도 같은 기술직 일을 맏아 왔다.
2차 대전이 끝나면서 새로운 전환점을 맞게될 스피커시스템 설계를 시작하기로 마음을 먹는다. 항시 음악을 보다 질감 있게 들려 줄 수 있는 음향 기기 시스템에 관심을 보이면서 개발하는데 전념했다.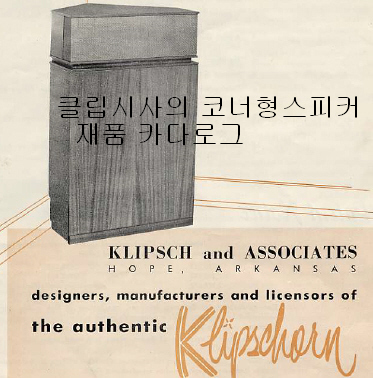 그가 엔지니어로서 대성하게 된 것은 그의 아버지의 영향을 많이 받았기 때문이다. 오늘날 스피커 산업에 공헌과 업적을 남긴 그의 발자취를 더둠어 보면 대단한 것으로 기록되고 있다.
젊은 시절 그는 이미 사운드와 라디오에 깊이 빠져들었으며 수신기를 직접 조립 할 정도로 엔지니어로서 기질을 보여 주기 시작했으나 실제로 저음용 혼 개발은
30세에 이르러서야 개발을 보게 되었고 1945년 유명한 K-Horn을 완성했다.
엔지니어로서 물리학상 등 여러 가지의 탐구에 대한 8개의 특허를 받아 낼 정도로 엔지니어로서 탁월한 실력을 쌓아 갔다. 이런 연구 결과는 그가 집에서 오디오용 스피커시스템 설계에 많은 도움을 주게 되었다.
수많은 논문과 학위 그리고 특허
그는 일생을 통해 3개의 특허와 물리학 등에 관한 연구 8개 그리고 12개 음향
재생에 관한 논문 등을 발표했다. 특히 지난 50년간 그의 유작으로 손 곱을 수
있는 혼 설계 방식의 스피커시스템 Klipschorn을 위시해 LaScala, Belle, Cornwall 그리고 Heresy 등을 들 수 있다.
그는 IEE(Institute of Electrical and Electronics Engineers, Inc)를 비롯해 AES
(Audio Engineering Society) 멤버 그리고 ASA(The Acoustical Society of
America) 회원이기도 하다.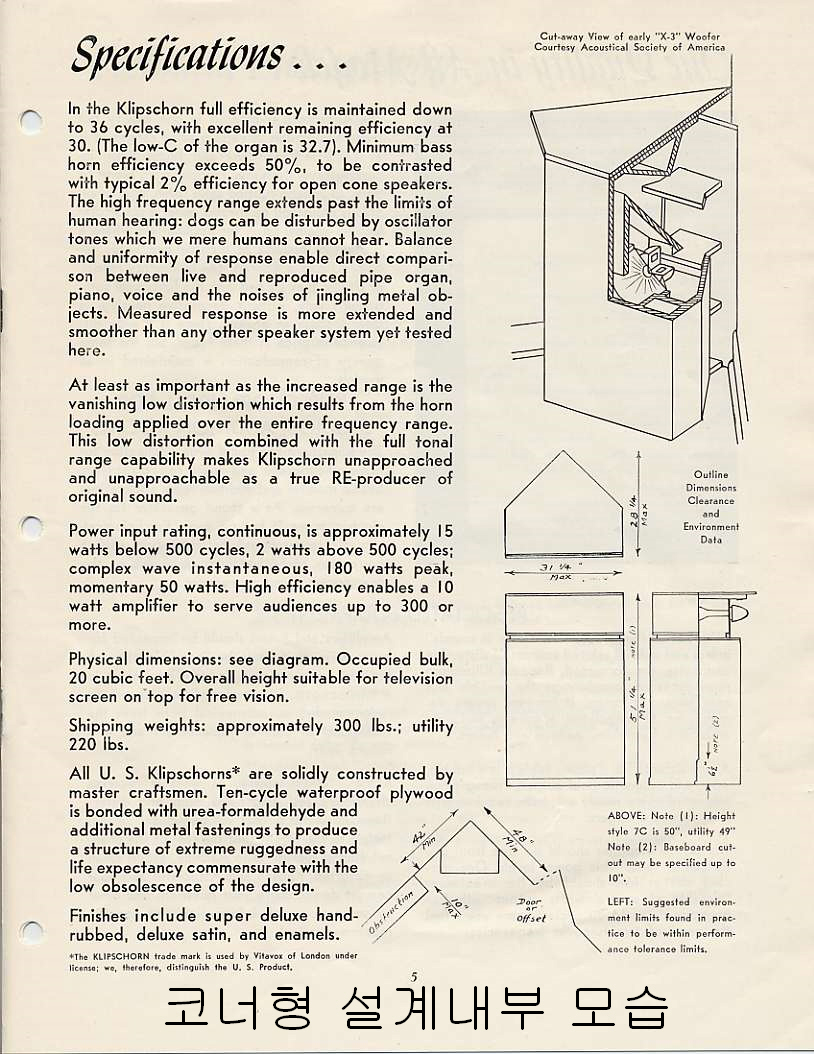 이외에도 뉴멕시코 Mu Phi Pi 멤버 스텐포드의 Gamma Chapter 멤버이며 1966년 뉴멕시코 스테이트 대학의 Alumni Award 상을 수상하기도 했다. 1978년에는 오디오 엔지니어링 협회로부터 라우드 스피커 디자인과 어쿠스틱 디스토션에 대한 연구 발표로 은메달을 받았다.
1946년도에는 PWK 중음용 유닛 개발에 성공했는데 이것은 모델 X-3 저음용 우퍼에 매칭시켜 주기 위한 유닛으로 만든 것이었다. 혼 설계 방식의 유닛과 스피커시스템은 각계로부터 좋은 반응을 얻게 되었고 제품 주문도 늘어났다.
그는 1948년에 알칸사스에 그의 첫 번째 공장을 마련했다. 이 공장은 현재 박물관으로 사용하고 있는데 전 세계의 많은 오디오파일들이나 학생들이 방문, 관광지로 이름이 나 있을 정도로 이 지방의 명소로 되어 있다.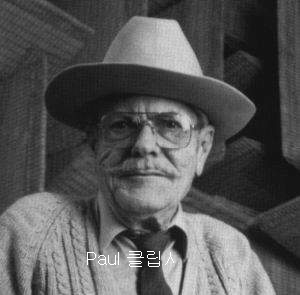 다음해인 1949 Rebel시스템과 Klipsch 텐테이블을 소개했다. 그리고 1956년에 Klipsch 쇼트 혼을 개발했으며 1957년에 새로운 설계 방식의 스피커시스템인 모델 Heresy를 개발 발표했다.
1959년에는 Cornwall시스템을 소개했으며 1963년에는 P.A.시스템용으로 사용
하기 위해 모델 La Scala 스피커시스템 그리고 1971년에는 모델 La Scala시스템을 업 그레이 시켜 놓은 신제품인 The Belle Klipsch를 내놓게 된다.
1981년에는 뉴멕시코 주립대학으로부터는 Law Degree 명예 박사를 수여했으며 1983년 "Audio Hall of Fame"에 그의 이름이 올리게 되었고 1985년에는 the
City of Hope에서 수여하는 이해의 시민을 받았다. 1989년에는 영국 하이파이
잡지는 그가 1993, 1994 그리고 1995년에 걸쳐 보여준 오디오 분야에 헌신한 업적을 기리기 위해 Hi~Fi News Award for Achievement상을 수여했다.
Paul W. Klipsch Lecture Hall를 비롯해 Paul W. Klipsch 일렉트릭컬 분야와 컴퓨터 엔지니어링 그리고 최종적으로 뉴멕시코 주립 대학에 세워놓은 일렉트릭컬 엔지니어링 학교 등에 관한 것이다.
1995년 6월 "The city of Hope"시는 재차 그의 이름을 영원히 Municipal
Auditorium에 봉헌했다. 1997년 뉴멕시코 주립 대학은 그의 엔지니어링 업적을 영원히 기리기 위해 Klipsch Museum를 세웠다.
두말할 필요조차 없이 그가 음향에 대한 수많은 연구와 기술 개발 등에 관한 업적은 우리가 알고 있는 이외에 너무나도 많았다. 즉 Engineering & Science Hall of Fame 비행 물체(Ballistic)와 지구 물리학(Geophysical)등에 관한 연구 업적은 토마스 에디슨(Thomas Edison)이나 조나스 셀크(Jonas Salk) 그리고 라이트
브러더스(Wright Brothers)와 같은 업적이라고 본다.
동사는 현재 이 회사를 정식 인수한 사춘 동생인 Fred S. Klipsch에 의해 1989년도부터 운용되고 있으며 모델 Kg시리즈를 비롯해 Forte 등 수많은 시스템을 개발 소개하기 시작하고 있다.
1994년부터는 본격적으로 AV용 시스템 개발에도 참여 THX 제품 개발에 들어가 epic 시리즈와 IW시리즈 등을 집중적으로 소개했다. 1995에는 뉴멕시코 주립대학에 일렉트리컬 엔드 컴퓨터 엔지니어링과를 개설하는가 하면 1996년 Pyle 제조 공장을 매입, 사세를 확장했다.
동사는 1943년에 설계한 KLIPSCHORN 시스템으로 최근에 와서도 더욱 각광을 받고 있어 주목되고 있다. 이 방식은 78년전에 스피커시스템을 연구해온
FREDERRICK MYERS의 꿈이 실현 되었다고 극찬도 받은바 있다.
이 회사의 제품은 고전 음악으로 부터 팝송에 이르기까지 모든 쟝르의 음악을 질감 있게 소화 다이내믹하면서도 클래식한 사운드 음향 설계를 특징으로 손곱고 있다. 인디아나주와 알캔사스 등에 2개의 공장을 두고 있으며 THX 기능을 위한 홈시어더시스템용 스피커 개발에 박차를 가하고 있다.
동사가 1997년에 내놓은 KLF 시리즈를 위시해 혼 설계 방식의 트위터와 미드레인지 그리고 카본 파이버 재질의 저음용 유닛을 사용해 만든 프로용 시스템에 이르기까지 수십 종류의 신제품들을 계속개발 소개하고 있다.
또한 Klipsch Audio 테크노러지사는 앰플리파이어 메이커로 유명한 Mondial 디자인사를 인수 THX Ultra 2 기능을 강화시켜 만든 Aragon 브랜드 AV용 앰프까지 생산하기 시작하고 있다.
여하간에 Paul Wilbur Klipsch 그는 가고 없으나 "Klipschorn" 이란 발자취는 우리 곁에 영원히 남겨놓고 있다. 그는 한때 경영인으로서 어려움을 당 할 때도 있었으나 한사람의 기술자로서 이름은 우리네의 머리 속에 위대한 발자취로 남아있다.
다음은 그를 추모하는 외국 기사
Audio Legend Dies At Age 98
Paul Wilbur Klipsch, one of the original geniuses of audio reproduction
technology and the founder of Klipsch, passed away at age 98 on May 5th.
He was an intellectual giant and every listener owes him gratitude for his
contributions to the development of high fidelity in general, and loudspeakers
in particular.
The following texts, provided by Klipsch company representatives, reveal
some of the depth and breadth of Paul Wilbur Klipsch's accomplishments,
technical innovations and eccentricities...
"The world of audio has lost one of its last great legends. Our founder, Paul W. Klipsch, has passed away at the age of 98. "Last year, our company
celebrated Paul's birthday with him at the original Klipsch manufacturing facility
in hope, Arkansas. At the party, which was thrown by Paul's wife, Valerie
Klipsch, Paul talked about days gone by with company veterans (some of
whom have been with Paul and the company for two and even three
decades) and discussed the science of audio with a new, and rather
awestruck, loudspeaker engineer.
"Stories of Paul's lasting wit and superior intellect were indeed true, which is
what often made it difficult to accept the fact that he was 98 years old. And
that is, in fact, the correct age despite rumours and rolling stone magazine
articles that cite ranges from 90 to 103. But that's just the tip of the iceberg when it comes to the myth, the lore, and the absolute truth about our
legendary founder.
"Paul's indisputable genius and one-of-a-kind personality touched so many lives for so many years that thereare now hundreds of stories about him being told and retold -- from the funny to the profound. On a personal note: my life is
exponentially more full for having known him and for having the unique
opportunity to be part of the company that Paul himself started way back in
1946.
"It has been said, and I firmly believe it, that every time you listen to recorded music you're hearing the passion, the genius and the legacy of Paul W.
Klipsch. He was a verifiable genius who could have chosen any number of
vocations,but the world sounds a lot better because he chose audio. And the
integrity of Paul w. Klipsch was beyond reproach. He was a great man who
always did the right thing in the right way.
"In honour and in memory of our founder Paul w. Klipsch, Klipsch audio
technologies has published the family's obituary on our web site (www.klipsch.com). Information is provided for those of you that want to make a special
acknowledgement of the way in which Paul has had an impact on your life.
On behalf of the company that was started and sustained by the
incomparable mind and spirit of Paul w. Klipsch, I invite you to join us in
celebrating his life and life's work as we say "so long" to the legend in sound."
Paul W. Klipsch, Inventor, Audio Pioneer and Legendary Eccentric Paul W.
Klipsch is one of America's most celebrated audio pioneers because he
revolutionized the way the world listens to recorded music. Unsatisfied with
the sound quality of phonographs and early speaker systems, Mr. Klipsch used scientific principles to develop a corner horn speaker that sounded more lifelike than all predecessors did.
The KlipschornR, which today is still manufactured and sold worldwide, proved that it was possible to reproduce the sound of a live orchestra inside a home. The resulting acoustics career of Mr. Klipsch has spanned from 1946, when he founded one of the first U.S. loudspeaker companies, to just last year at the
age of 96, when his latest acoustic findings were published in the Journal of
the Audio Engineering Society.
Fred Klipsch, a cousin to Paul W. Klipsch and current owner and CEO of Klipsch Audio Technologies, said, "Ithas been said, and I firmly believe it, that every
time you listen to recorded music you're hearing the passion,the genius and
the legacy of Paul W. Klipsch. He is a verifiable genius who could have chosen any number of vocations, but the world sounds a lot better because he chose audio. And the integrity of Paul W. Klipsch is beyond reproach. He is a great
man whoalways does the right thing in the right way."
In 1978, Paul W. Klipsch was awarded the Audio Engineering Society's highest honour, the prestigious Silver Medal, for his contributions to speaker design
and distortion measurement. Mr. Klipsch was inducted into the Audio Hall of
Fame in 1984. In 1997, he was inducted into the Engineering and Science
Hall of Fame, an honour shared by Thomas Edison, George Washington Carver and the Wright brothers. The Engineering and Science Hall of Fame
recognizes those who have improved the quality of the human condition
through an individual contribution using engineering and scientific principles.
Mr. Klipsch received a Bachelor of Science in electrical engineering from New
Mexico State University in 1926, a Masters ofScience in electrical engineering
from Stanford University in 1934, and a Doctor of Laws from New Mexico
State University (NMSU) in 1981. The NSMU engineering department was
renamed the Klipsch School of Electrical and Computer Engineering in 1995, in honour of Paul W. Klipsch.
Mr. Klipsch's interest in engineering was influenced by his father, an instructor of mechanical engineering at Purdue University in Lafayette, Ind. Although he was only 12 when his father passed on, Mr. Klipsch's interestin science and
engineering endured. He built his first speaker using a mailing tube and a pair
of earphones at the age of 15, which was a year before the first public radio
broadcast.
After graduating from El Paso High School, he enrolled at NMSU where he
played cornet in the university band and was an award-winning member of
the school rifle team. He credits his four years as a member of the Aggie Band for developing his love and knowledge of music and musical instruments.
Following graduation from NMSU, Mr. Klipsch went to work for General Electric designing radios that were then sold to RCA. In 1928 he responded to a
notice on the GE bulletin board. This resulted in a new job maintaining electric locomotives in Chile for three years before entering graduate school at
Stanford.
After receiving his Masters Degree, Mr. Klipsch worked as a geophysicist for a
Texas oil company. He later served in the U.S. Army during World War II,
earning the rank of Lt. Colonel.
It was during his service at the Southwest Proving Grounds located in Hope,
Ark. that Mr. Klipsch refined his corner horn speaker design. Visitors to his
officer's quarters were amazed by the lifelike reproduction and encouraged
Mr. Klipsch to start his own manufacturing business. He received a patent on
his loudspeaker design in 1945, registered the name Klipsch & Associates in
1946, and began making each loudspeaker with his own two hands until he
hired his first employee in 1948.
During a 1999-videotaped interview, Mr. Klipsch claimed that he did not, in
fact, name the KlipschornR himself. He said that he made a sales call to a man
in New York City during the first years of operating Klipsch & Associates and,
surprisingly, thebusiness prospect already knew about the revolutionary new
loudspeaker. "We've heard all about your corner horn," the man said. "We call
it the Klipschorn."
The eccentric touch and no-compromise spirit of Paul W. Klipsch has indeed become part of the consumer electronics industry, the practice of engineering,
and acoustic research itself. For example, Mr. Klipsch related that when he
was developing a smaller speaker for use between two Klipschhorns, an
acquaintance declared that he couldn't possibly introduce itto the public
because it was in direct violation of Mr. Klipsch's own corner horn principles,
and amounted to acoustic heresy.
"The hell I can't," Mr. Klipsch said. "And that's exactly what I'm going to call
it!" A year later the Klipsch Heresy loudspeaker was introduced and, ironically,
it became a bestseller in the church sound reinforcement market.
Many of the outrageous, but absolutely true stories of the eccentricities of
Paul W. Klipsch were captured by author Jim Shahin in a 1989 interview for
American Way Magazine.
The official company motto is immodest: "A Legend in Sound." The unofficial
one, directed at competing manufacturers who make what Paul Klipsch
considers outlandish claims, is blunt: "Bullshit." The word is printed on plastic
yellow lapel buttons that Klipsch hands out at trade shows.
Such is the behaviour of the much-storied Klipsch. Exasperated ministers tell
of his taking notes during sermons so as to better take issue with them after
the service. (On one occasion he is reported to have commented to a cleric
by opening one side of his coat to reveal the word "Bull" and the other to
reveal yep, you guessed it.)
Parishioners remember his walking over pews to get out of church. A Little
Rock audio retailer relates with astonishment that Klipsch drilled a hole
through the top of his Mercedes dash board -- "A Mercedes," gasps the
retailer -- to install a gauge of some sort.
Klipsch co-workers tell and retell the famous story of Klipsch stripping down to his skivvies and turning up the temperature in his office to broiling so that he
could dissect a calculator to discover why its manufacturer said it wouldn't
work in extreme temperatures. (Klipsch, incidentally, found the answer and
wrote the company's president to tell him how to fix the problem.)
There is the tale of his contorting his airplane into positions that terrified
those watching from the ground; when asked what he was doing up there,
he replied that he wanted to find out what would happen if he put the plane
in stall position with the engine on.
He is said to wear several watches simultaneously. Acquaintances are curious
about the scribblings and graphs he keeps in a brown leather notepad that
juts out of his back pocket. And everyone warns visitors against riding in his
car. "If he gets an idea while he's at the wheel," explains one of his friends,
"well, he just seems to forget about the road."
In addition to the KlipschornR and Heresy, the Klipsch Rebel, Shorthorn,
Cornwall, La Scala, and Belle Klipsch are among the most well known
loudspeakers developed by Paul W. Klipsch. Many of these models, which are
regarded as some of the world's finest, are still manufactured and sold around the world today. The KlipschornR is the only speaker in the world that has been in continuous production, relatively unchanged, for over 50 years.