미국 라우드 스피커 조합 ALMA 2007 (American Loudspeaker Manufacturers Association)

1964년도에 출발한 ALMA란 "American Loudspeaker Manufacturers Association"으로 비영리 친목 단체로 매년 회원사간에 침목과 기술 개발 그리고 정보 교환 등을 위해 설립된 단체다. 매년 열리는 연초에 열리는 총회에는 회원사 이외에도 전세계에서 많은 스피커 관련 엔지니어들과 보도 관계자들의 참석으로 공전의 성황을 이루고 있어 관심을 갖게 한바 있다. 매년 2회에 걸쳐 총회를 치루고 있으며 회원사들간에 동정과 새로 개발된 신기술 부품 등에 대한 정보 등을 소개해주고 있다.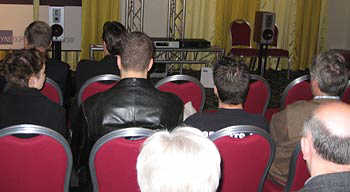 세미나 강의모습
ALMA의 중요 멤베로는 전 세계 스피커 업계의 거물급인 Rob Baum을 비롯해 Kevin Blair, Sam Bullaro, Dick Campbell, Robert Chanaud Vance Dickason(이분은 삼성전자의 기술고문 Speaker Build 등 많은 잡지에 글을 기고하고 있음), William Dickson, Dave Goryl, Douglas Greenlee, Jeff Foster, David Prince, Jon Von Ohlsen 그리고 Bob Young 등이 있다. 이들은 매년 열리고 있는 각종 총회에 참석과 전세계 스피커에 관한 기술 진척이라든가 디자인의 변화 그리고 디지털 시대에 대처해 나갈 수 있는 신기술 그리고 새로운 부품 개발 등 산적해 있는 과제에 대한 토의가 주목적이다.
▣ 2007년도 연차 총회 Evant 스케줄
2007 Winter Symposium: Maintaining Quality from Design & Development through Production
Date: Jan 6-7, 2007 (the two days immediately prior to the CES Show)
Location: Orleans Hotel and Resort, 4500 W. Tropicana Ave, Las Vegas, NV 89103
Tel: 1800 675 3267.
http://www.orleanscasino.com
Symposium Topic:
Maintaining Quality from Design & Development through Production. NEW! Call For Papers
Training Classes:
We have three training classes lined up this year: (more)
Practical aspects of loudspeaker design Peter Larsen
Fact Versus Opinion - Lidia Lee
Loudspeakers 101 for Non-technical Professionals - Dan Digre
Speakers :
Speakers include
Retailers and manufacturers who are faced with the challenge of sourcing quality products Manufacturers of quality test equipment used in the design and manufacture of loudspeakers System integrators who bridge the gap between manufacturers and their customers to ensure quality requirements are understood and implemented.
Round Table Discussions :
The topics for this year's round table discussions are:
What specific quality techniques and programs (Pareto charts, 5 Whys, Ishikawa Diagram, C&M Matrix, other) have you found to be the most successful and effective in solving quality issues and It's all about Quality* (*except when it's about price):
What strategies have you found most effective in dealing with the quality vs. price conundrum within your organization.
Exhibition :
The exhibition features suppliers of test and QC equipment, component suppliers, consultants and industry publications. Learn more about exhibiting.
Who should attend :
The Winter Symposium is the loudspeaker industry's largest networking event. With round-table discussions, technical presentations, suppliers of goods and services to the industry and an audience including technical, purchasing, sales, and marketing personnel, the show is an excellent networking opportunity for anyone working in, or supplying products to the loudspeaker industry. Read the review of last year's show. A full schedule of presentations and events will be available shortly.
Members' Dinner This year we will be returning to the popular Yolie's Brazilian Restaurant for the member's only dinner. Sign up on the attendee registration form.
Cost : Exhibitors*: Members: $480 before 10/25/2006, $600 before 11/25/2006 $720 after 11/25/2006
Non-members: $980 before 10/25/2006, $1100 before 11/25/2006 $1220 after 11/25/2006 (non-members price includes annual membership fee)
Attendees* Note that members must maintain a full membership at the time of the conference to qualify for the members rate.
Members: $160 before 11/15/2006; $195 after 11/15/2006.
Non-members:$260 before 11/15/2006; $295 after 11/15/2006.
Exhibit Hall Only: $35 before 11/15/2006; $50 after 11/15/2006
exhibitor cost includes two exhibit only passes and the option to purchase one full pass at a discounted rate. Attendee price includes lunch in the exhibition hall.Download exhibitor space application form. Don't delay - you must sign up before Oct 25, 2006 to get the early bird booking discount. Booth selections will be allocated in the order that completed application forms are received, so send your form in today!
Download attendee registration form. Register before November 15 to take advantage of the Early Bird discount. Note that exhibitors should also register their staff using this form.
Room Reservations: Call 1800-675-3267 (Mon-Fri 7.00am-11.00pm, Sat-Sun 9.00am-5.00pm PST). Identify yourself as attendees of the ALMA Symposium in order to receive the special group rate of $100 on Jan 5, $120 on Jan 6, and $80 on Jan 7. You will be required to pay a deposit of first nights room and tax at time of booking. All rooms must be booked by Dec 5, 2006 to secure the ALMA rate.
Cancellations incur no fee up to 72 hours before arrival. Within 72 hours of arrival, the first night deposit is forfeited.
ALMA International's 2007 Winter Symposium, "Maintaining Quality from Design & Development through Production". Abstracts must be received by 10/15/2006 and selected presenters will be notified by 10/21/2006.
The Symposium will be held January 6-7, immediately before the CES in Las Vegas, NV. Up to four (4) presentations of 30 minutes each will be chosen.
Criteria for Submission Abstract/summary must consist of a description of 75 words or less suitable for reprinting in pre-symposium promotional literature Must include a suggested
title Must list three (3) specific objectives of the presentation Must include the name, address, phone number and a short biography of the presenter(s)
Must include any special equipment needed Must be able to supply copies of presentation in electronic format (MS Word, PDF) for inclusion on the ALMA website.
Submission Process Abstracts will be evaluated on the basis of their overall
merit in the following areas: Overall quality Relevance and value to the loudspeaker industry Practical feasibility and usage of topic and information presented