다음은 미국 미네소나주 Hamel에 위치해 있는 W.A.M.Engineering사가 소개한 Flex Speakers시스템 제품 설계와 성능에 관한 정보로서 관심 있는 분들은 한번 동사가 설명한 원문을 참조해 보시기 바랍니다.
사진설명
(1). FlexSpeakers in Cherry Burl with Lowther PM-2A
(2). FlexSpeakers DeLuxe version in Audio Limits Showroom.
(3). FlexSpeakers with Audio Technology Mid drivers and Eben ribbon Tweeter
.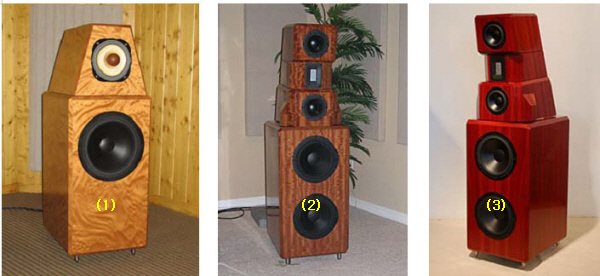 FLEX SPEAKERS
Flex Speakers in Cherry Burl with Lowther PM-2A FlexSpeakers DeLuxe version in Audio Limits Showroom. Flex Speakers with Audio Technology Mid drivers and Eben ribbon Tweeter
Introducing the Flex Speakers by Wally Malewicz
The Flex Speakers is the latest product from Wally Malewicz, engineer and producer of the Wally Phono Tools for set-up of Analog playback Systems (Award Winning - Stereophile Joint Accessory Product of the Year 2002 ) .
The speaker is appropriately named as the flexibility it offers the user is unmatched by any product on the market today. In addition to offering a wide variety of common and exotic wood finishes, the Flex Speakers allow the choice of midrange/tweeter drivers according to listening preferences and power availability. Further, the bass response is professionally adjusted - in your own home - to provide the best low frequency performance in the user listening room.
Flex Speaker Midrange/Tweeter Units
Lowther – The Flex Speaker was originally designed around the esteemed DX4 and PM2A Lowther drivers. WAM Engineering recognizes that it is a physical impossibility for the Lowther driver to give satisfying bass response below 150Hz.
The Lowther drivers in the Flex Speakers are limited to playing above 160-200 Hz by placing a passive 6 dB/Oct crossover in front of the amplifier driving it. This approach keeps diaphragm excursion in the linear limit of +/- 1mm and about 3dB of volume can be gained from the low power SET amplifier.
The limit of diaphragm excursion and special design of cabinet enhances already incredible midrange reproduction. Another common remark about the Lowther drivers is that in some applications they could be a bit aggressive in the upper midrange.
WAM Engineering has developed reversible modifications (wool damping to the wheezer and custom-made phase plugs) to the driver that completely eliminate this aggressiveness.
Audio Technology – The Flex Speaker Midrange/Tweeter Units are also available with the acclaimed Audio Technology 6" midrange driver and ribbon tweeter (used in the Eben Speaker model X3 - HiFi+ Product of the Year 2003 - Editor's Choice)
Flex Speakers Bass Units
The Bass Units of the FlexSpeakers are based upon one 13" Audio Technology driver in each channel. This is the same driver used in the Rockport Technologies - Hyperion ($75,000 retail) and Antares ($42,000 retail - winner of Stereophile's 2002 Product of the Year Award).
The quality of the bass from this unit is world-class, but when controlled by the Flex Speakers Power Module is simply unparalleled.
Flex Speakers Power Modules
The power module is a stand-alone mono bass amplifier, crossover and parametric equalizer. One Power Module controls each channel. The amplifier is a highly modified 250 watt solid state unit, integrated with an 18dB low-pass crossover (variable from 100 – 300 Hz) and continuously adjustable phase from 0-180deg.
The parametric equalizer is a very powerful five-band unit (with continuously adjustable frequency and Q) that, together with the crossover, allow for the most dynamic, revealing and musical bass you will ever experience in your home.
The Power Module has its own remote control to adjust volume and crossover point. Professional Set-Up and Tuning in Your Own Home (included in the selling price) With the proper diagnostic equipment and technical expertise, the many degrees of flexibility the Bass Module offers allow the user to attain unequaled in-room bass response.
Each pair of Flex Speakers includes an in-home set-up and documented tuning session by Wally Malewicz armed with a computerized FFT Test System and NTI Professional Spectrum Analyzer.
In addition to the best set-up, it will be performed Room Acoustic Measurements with suggestions for Room Treatment (if it is needed).
Hardware and Finishes
Midrange/Tweeter Units, Bass Units and Power Modules are supplied with WBT hardware, Nordost internal wiring and finished in the highest quality hardwood and exotic wood finishes to order.
Other Mid/High Systems to be announced soon. Test Systems used for measurements/setup of Flex Speakers:
1. CLIO System (www. audiomatica.com) , which can perform all measurements
(and few more) published in Stereophile Tests. It is used by many World Class Speaker Manufacturers.
2. ETF Program ( www.etfacoustic.com) for Room Measurements
(Early Reflections, Reverberation Time RT 60 , etc.)
3. Minilyzer ML-1 and Acoustilyzer AL-1 by NTI
Instruments (www.nt-instruments.com) worldwide award winning Test
system used by professional sound engineers.
연락처
W.A.M.Engineering
247 Cherry Hill Alcove
Hamel , MN 55340
USA- 763-478-6685
wwmalewi@aol.com