Boenicke Audio-W22 스피커시스템 개발 정보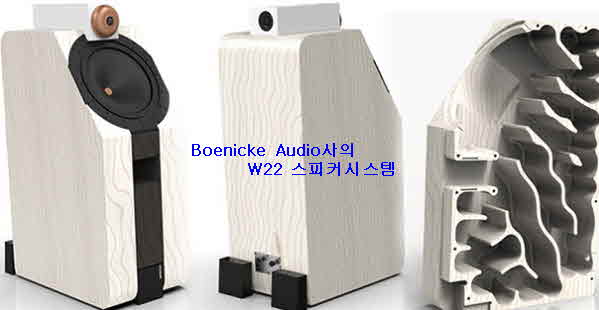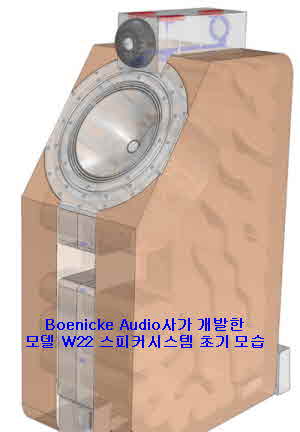 스위스의 Basel 지역에 위치해 있는 하이엔드 오디오시스템 제조 메이커인 Boenicke Audio사는 1999에 설립되었다. 동사가 최근에 개발 소개하고 있는 모델 W22 마루형 스피커시스템. 모델 W22시스템은 동사 설립 22주년 기념작으로 소개하고 있다.사진에서 보여 주고 있듯이 기존의 제품 디자인과는 전혀 다른 외형 디자인을 보여주고 있는 시스템으로 인클로저 전면 상단에 고음용 트위터와 중저음용 콘 드라이버를 부착시켜 설계한 2웨이 3유닛 구성 마루형시스템이다.
동사의 설명에 의하면 모델 W22스피커시스템은 한정 생산품으로 전면 위상 반전 포트를 갖추고 있고 사용 유닛은 프랑스 Audax사의 돔형 고음용 트위터와 11.2" 구경 프랑스 Suprvox사의 중저음용 드라이버로 제작되어 있다.
인클로저 내부는 사진에서 보여 주고 있듯이 복잡한 구조의 트랜스미션 라인 설계 방식이다. 우선 전면 패널을 보게 되면 비스듬하게 눕혀 놓은 뜻한 외형 디자인을 갖춘 인클로저로 상단에 사용 유닛은 고음용 트위터로 RAAL사의 리본형 등이다.
Boenicke Audio사의 동사 설립 22주년을 기념하는 새로운 플래그십이 적어도 디지털 형식 (at)으로 탄생했다. 모든 사진은 컴퓨터로 제작되었으며 올해 말에 완전히 완성된 최초의 플로토 타입을 선보일 예정이다.
여기에서 완전히 새로운 수준으로 끌어 올린 당사의 모든 고유한 튜닝 조치를 제외하고 특별한 기술적 특징은 세 드라이버 모두가 독점 메커니즘을 통해 스피커 자체가 새로 설계된 세 개의 직사각형 스윙 베이스 타워에 배치된다는 사실이다.
고음의 효율은 룸 게인에 따라 최대 101dB/2.83V, 중 음역은 약 95, 저음 및 상위 저음은 다시 약 96-100이다. 약 33Hz에서 마이너스 3dB. 드라이버는 종이 보이스 코일 포머, 청동 위상 플러그 및 청동 반구 모양의 Audax 돔 트위터가 있는 맞춤형 Supravox 28.5cm 구경이다.
모델 W22시스템은 연 6회 생산되며 가장 안목 있는 개인에게만 한정 판매 제품으로 소개될 예정이다. 현재까지 모델 W22시스템의 공식 가격표는 발표되지 않았다. 동사의 설명에 의하면 판매 가격은 잠재 고객과 긴밀히 접촉하여 개별적으로 결정된다고 알려 지고 있다. 한 가지 이 제품 재질로는 목재, 즉 아세틸화 Accoya만 사용할 수 있다. 치수가 거의 100% 안정적이며 견고한 목재 인클로저의 치수가 커질수록 점점 더 중요해진다. 고객 사양에 따라 사용할 수 있는 단단한 목재 측면 패널 옵션이 있다. 다음 재원은 아직 확정되지 않은 것으로 추후 하반기에 새로 발표될 예정이다. 다음은 동사가 소개하고 있는 원문을 참조해 주시기 바랍니다....
Boenicke Audio was founded in 1999. In today's hifi market with an overwhelming number of brands (some say 20,000 worldwide!), we've scrutinized each of our products, asking ourselves, "does anyone really need this?" So Boenicke Audio has grown slowly and organically, not focusing on the number of units to be sold but rather on the quality and relevancy of our products. As many loudspeakers as there are in the world, they can roughly be broken down into three main categories. The first is the loudspeaker that has been "invented" time and time again: a bass-reflex box made from MDF with foam dampening, a dome tweeter, one or two cone-drivers on the perpendicular front baffle, plastic (lacquer) coating, mount spikes, and a standard crossover network. Many "big" loudspeaker manufacturers don't even have real in house skill anymore, but have their models designed by third parties who don't have a true emotional link to the finished product. This is a fact, and we think that it might be one of the main reasons why the hifi product market seems to have become so impersonal. This tired, passionless method of creation leads to a world where the retail value of a product is perceived as paramount. In this world it's more about buying and selling (and this is only possible if 99% of all gear is exchangeable) than about finding a really good product and keeping it for many years of pleasure and excitement. 20 years ago there might have been fewer models with "perfect" piano high gloss finish, but there were more models that gave you the opportunity to discover and hear the "handwriting" of the actual designer of that particular model. The ratio between what you see and what you get has actually never been as deceiving and superficial as it is with many of today's loudspeakers. Boenicke Audio's goal and deepest wish is to think about, design, build, and market products that are the other way around. We strive, determined to create products that are so much more than what meets the eye, products that reflect an honest way of living and an accuracy of observation. So, we absolutely can't justify creating any loudspeakers in this first category of MDF boxes. The second category of loudspeakers are the brands for whom "less is more" holds true. These brands use better sounding materials for their enclosures than MDF, or build dipole speakers that sometimes use no crossover all at. Whether they are unique or not, these brands create loudspeakers with some true merits.
The third category goes a step further to do things that no one else does. These loudspeakers actively boost sound reproduction quality by adding certain elements to the signal path, to the enclosure, drivers, or any other part of the speaker. So doing, these brands create loudspeakers with a true identity and real, unique selling propositions. There are very few speakerbuilding companies who clearly find themselves in this category and we are deeply convinced that Boenicke Audio is the leader and only true contender. Sven Boenicke, the founder, head, and owner of Boenicke Audio acoustically designs and brings to sonic life every unit that we sell. All our products truly bear Sven's uncompromising handwriting which we consider to be the key factor to create a truly outstanding product and sound experience. All final decisions are made by Sven so it never happens that opposing interests from different departments within the company destroy the vision, unity, and ultimately the quality of a product. The finance department will never forbid the use of superb but costly tuning parts or enclosures milled from massive wood. Of course, there are many other reasons why Boenicke Audio is truly unique and exceptional. We are one of less than a handful of companies who build their loudspeakers from solid wood. There is much gossip on the internet that solid wood speakers are always built as resonating instruments and therefore try to imitate wood instruments. If someone takes a look at the cross-sections of our CNC milled enclosures it should become clear that our enclosures are not designed to act as resonating bodies. On the contrary, we try to make our speaker bodies as solid and non-resonant as possible. Some may ask, "then why make them out of natural wood?" The answer is very simple. First, if you mount a speaker driver on a certain mass of a particular material such as solid wood (or MDF or aluminum, just to name other examples), the inherent sound properties of that material will strongly affect the way the speaker driver itself sounds. This is a fact, but virtually no one seems to know about it – or take it into consideration when building a speaker driver or loudspeaker. Almost every driver manufacturer knows that using an aluminum phase plug can help to get heat out of the magnet system and eliminate the little echoic chamber behind the dustcap, but compared to a wooden phase plug it adds gross coloration (yes, aluminum to human hearing is a sonically highly coloring material)! Second, there is no such thing as a non-resonant enclosure,
so some degree of sound energy always dissipates from the enclosure itself. It seems evident that a body of solid wood with a thin oil wax coating will resonate in a more natural way than the same body made from MDF with a plastic coating. Our W13 is a perfect example of the benefit of using solid wood enclosures. While the W13 is heavy and extremely non-resonant, the low degree of inner damping of solid wood with only minimal amounts of an extremely hard glue allows the speaker to reproduce music with so much true light in the harmonic structure of each tone you have to hear to believe it. This is something that we have not discovered with any other loudspeaker brand, regardless of price. Do you know any other manufacturer who uses the variety of tuning devices that we use, especially in our SE and even more the SE+ versions? And do you know a manufacturer who tests every type of driver for the correct sonic (not marked) orientation? Or LessLoss C-Marc internal cabling? Each and every one of the above described items and tuning devices are a gain in reproduction quality - and we assure you that it is well and truly audible. If you leave one out or replace the terminals (for example) with inferior ones to save money, it is not the same level anymore. One or two changes might not seem dramatic, but it all accumulates – for better and for worse. We agree that all this is for naught if each loudspeaker model is not masterfully tuned and sonically balanced in the end. To ensure that each and every speaker is fined tuned we have a method that is as individual and phenomenal as the products themselves. We are very privileged that Sven started to make his own music recordings in the early nineties. With the help of one or two splendid minds, he managed to create and build something we would call the most radical, perhaps best sounding 8-channel recording chain in the world. In the last 20 years Sven has recorded close to 300 venues and concerts, many of them with live audiences. Each recording was made in environments such as concert halls, churches, and other buildings. Instead of being in the control room of a recording studio, Sven was always present in the sound-field of the original music from beginning to end (Technicians who consider their memory of the sound in the control room as their true reference will have a problem judging the absolute level of quality of a sound referenced by the original sound in the field, because they were never in the field but always just listen to either headphones or speakers).
Sven has the ability to remember sounds in a photographic way. He can see the harmonic texture of sound as color in his mind's eye. By means of storing a tightly matching corresponding color in his memory he can vividly recall his experience in the sound-field of these incredible live performances, even months later. So, to get back to the speakers: in development stage, each speaker model is fine-tuned using these very recordings. The same holds true to our own electronics, cables and power distribution solutions. Sven uses the remembered concert hall reality as the reference, nothing else, to ensure the tuning and sonic balance of every Boenicke product is life-like. From time to time, we demonstrate this process to interested audiences at shows. For example, In Vienna in 2010 we performed live music and played back the recording via the system right after the live event. We're happy if we're somewhere in the region of 90% of the original – a value which most professionals would dismiss as a ridiculous illusion anyway. At Boenicke Audio coming very, very close to original sounds is not an illusion but an achievable goal. And even now that we have achieved this goal, we will not stop working on an even better experience of the reproduced beauty of sound.
연락처: +41 (0)79 959 05 50
미국 Audio Research Corporation사 새로운 소유권 하에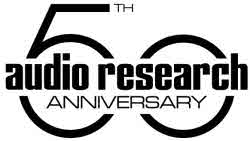 Trent Suggs가 전적으로 소유한 비상장 기업인 TWS Enterprises, LLC사가 2020년 8월 말까지 완료될 것으로 예상되는 실사 완료에 따라 McIntosh Group, Inc사로부터 Audio Research를 인수하는데 동의했다.
앰플리파이어 제조 메이커로 Audio Research사는 올해로 50주년을 맞이하여 고성능 음악 재생의 여정의 다음 장을 시작할 때이다. Audio Research사는 McIntosh Group이 소유한 지난 6년 동안 확장된 마케팅 기회와 새로운 시장 부문에 대한 증가로 관심을 끌게 한바 있다.
McIntosh Group의 Design Lab은 세련되고 현대화된 미학을 도입하면서 과거 제품의 상징적인 요소를 통합하는 새로운 산업 디자인도 정의했다. Audio Research사 제품은 McIntosh Group의 다른 브랜드와 함께 전시되어 미국 및 국제적으로 광범위한 시장 가시성을 제공했다.
Trent Suggs는 사장 겸 북미 영업 이사로서 두 가지 역할로 회사에 다시 합류 할 것이다. Brandon Lauer는 국제 영업 이사와 마케팅 이사로 두 가지 역할을 맡아 Audio Research에 다시 합류 할 것이다.
Dave Gordon이 전무이사의 역할을 맡게될것 이지만 다른 부서의 이동은 아직 계획되지 않아 유동적이다. 제품 개발, 엔지니어링 및 제조는 미니애폴리스 서쪽 교외에 있는 메이플 그로브에 있는 회사의 20,000 평방피트 시설에 남아 있다.
Audio Research사 고유한 문화와 프로세스는 그대로 남아 회사의 미래 발전의 핵심 기능이 될 것이라고 한다. 동사의 고성능 음악 재생 가치는 시장에서 브랜드의 탁월한 명성을 계속 유지하기 위해 모든 개발의 중심에 남을 것이다.
플로리다 오디오 엑스포, 2021년도 전시회 취소 발표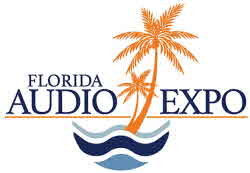 미국 플로리다에서 매년 개최되고 있는 Florida Audio Expo 2021 전시회가 주체측 발표에 의하면 전격으로 취소되었다고 발표했다. 오디오 엑스포 측의 Bart Andeer, Michael Bovaird, John Chait, Ammar "AJ"Jadusingh의 창립자들은 2021년 전시회를 전격 취소하기로 어려운 결정을 내렸다.
Florida Audio Expo의 공동 창립자이자 운영 관리자인 Bart Andeer는 "우리를 지원하는 전시업체, 소비자 및 미디어에 진심으로 감사드립니다. "이 결정은 우리가 발표 하고자하는 결과는 아니지만, 현재 사정을 고려할 때 우리의 결정이 가장 적합 하다는 결정을 발표하게 된것이다.
그러면서 우리는 항상 고객의 안녕을 최우선으로 할 것이다. 그러나 2022년에는 다시 함께 모여 음악에 대한 우리의 사랑을 축하할 새로운 기회를 가져올 것입니다." Florida Audio Expo는 2021년 행사를 위해 수집된 모든 보증금을 환불했다고 발표했다.
Andeer는 계속해서 "우리는 그동안 전시회의 멋진 추억을 계속 즐기고 있으며 모든 사람이 계속해서 서로를 지원하고 연결 상태를 유지하도록 할 것을 다짐하기로 했다. 특히 이 어려운 시기를 통해 음악 가이드를 안내해드립니다. 전체 플로리다 오디오 엑스포 팀을 대표하여, 다시 만날 때까지 평화와 안전과 건강을 기원합니다." 메시지를 전해 오기도 했다.